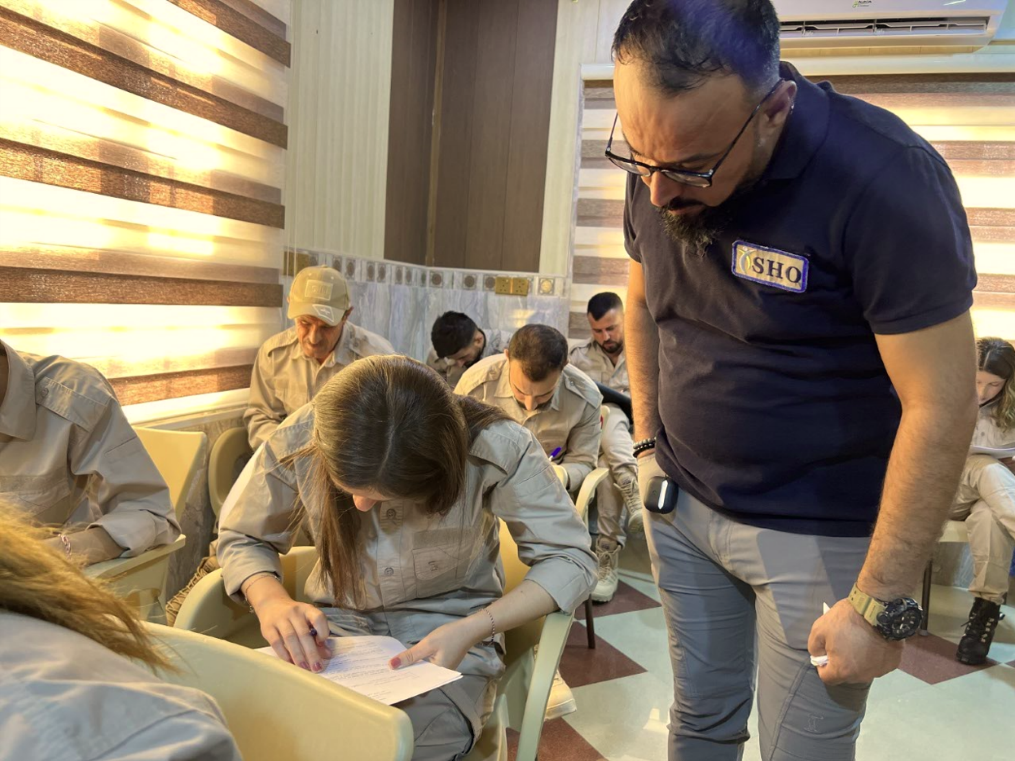 Aqeel Journey – From Farthest South to Farthest North of Iraq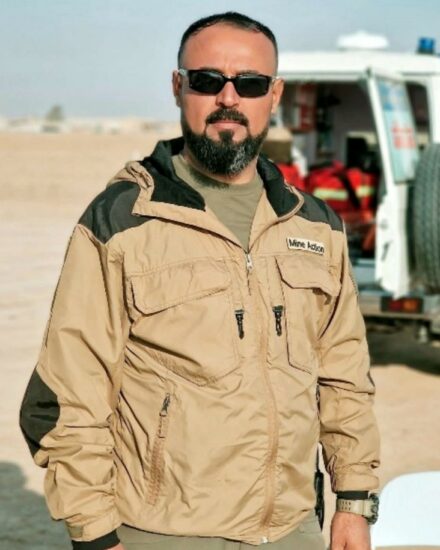 In the heart of Sinjar, where the scars of conflict run deep, a dedicated gender-mixed team of deminers, supervised by a 41-year-old man, is working tirelessly to make their community safe again. In this interview, we shed light on the role of the devoted Site Supervisor of SHO- HAMAP-Humanitaire Iraq Local Partner- in the demining team, his motivations, and the daily challenges he faces in the pursuit of a safer Sinjar.
Aqeel Thajeel Faleeh is a committed deminer with a passion for making Sinjar a safer place. Born on August 21, 1982, in Nasiriyah city- south of Iraq. Aqeel's role is Site Supervisor, and he is one of the most expert operators in Iraq.
Leaving behind his family, Aqeel embarked on a lengthy journey spanning more than 9 hours and covering 865 kilometers from the farthest reaches of southern Iraq to contribute to the well-being of the Sinjar community. When asked about his motivation for joining the HAMAP-Humanitaire and SHO Safer Sinjar project, Aqeel emphasized the human element and the desire to assist people in returning to their normal lives once the dangers have been eliminated. Reflecting on a pivotal moment that solidified his commitment to this cause, he recounted, "In certain villages, hazardous obstacles obstructed the movement of farmers and school students. We played a crucial role in eliminating these dangers, and I take great pride in being part of an exceptional team."
Aqeel emphasizes that collaboration between team members is essential to the success of any project, particularly in the context of mine action. Known for his sense of poetry and the positive memories he shares with his team, Aqeel firmly believes that a cooperative spirit among team members is essential for surmounting challenges and preventing errors. He recalls a particularly memorable instance of teamwork within his team, stating, "After a taxing day, as we return to our operation compound, we witness everyone actively pitching in to alleviate the pressures, and there's a perpetual smile on each other's faces."
Aqeel points out that the severe summer conditions, characterized by scorching temperatures and pervasive dust, present formidable obstacles to meeting their objectives as outlined in their plans. He emphasizes, "On certain days, the temperature soars beyond 45 degrees, but we persevere because we understand the significance of our efforts in ensuring the safety of the area's indigenous inhabitants."
Considering the demanding nature of their work under challenging conditions, Aqeel's unwavering commitment involves being present with the team each day. Everyone has been taught to prioritize the strict adherence to our established safety procedures with utmost diligence, and without compromise.
One of the primary goals of the project is to enhance technical capacity, with the ultimate aim of ensuring the sustainability of SHO after HAMAP-Humanitaire's departure. Aqeel is a strong advocate for furthering the mission and actively contributes to enhancing the technical skills of the operations team. The trainings provided, which complies with national and international mine action standards, as well as SHO Standard Operating Standards, enhances the capabilities of each team member, guaranteeing the safety of all in this challenging environment. In addition, Aqeel expressed, "I confidently believe that these courses represent the sole means to empower local NGOs, enabling them to stand on their own and endure once international support diminishes. Mine action technical knowledge serves as a powerful tool in our fight against contamination, and we are steadily securing this knowledge for our team."
The project has already documented numerous success stories. Aqeel shared some heartwarming success stories that highlight the profound impact of their demining interventions in the Sinjar community. One particularly inspiring tale comes from a village where SHO team thoroughly cleared agricultural land. As a direct result of their efforts, a local farmer was able to reclaim the land and resume cultivation. This tangible transformation, with life returning to normal within the community, stands as a powerful testament to the profound significance of SHO work in fostering safety, prosperity, and hope in Sinjar.
Aqeel attributes these successful stories to the importance of building strong relationships and fostering close connections with the local community. He emphasizes that most of the locals are highly cooperative with SHO clearance teams. This positive interaction is largely facilitated by the Explosive ordnance risk education team's practice of conducting the community liaison in advance, introducing the community to the project's goals and objectives.
The project ensures gender equity in both demining teams, which Aqeel says is a highly commendable approach. He holds great admiration for the dedicated women who work alongside their male counterparts. As an illustrative example, he highlights the existence of two teams, one led by a female leader and the other by a male leader, both of which have exhibited exceptional levels of productivity and enthusiasm. These team members wholeheartedly embrace their roles in fields traditionally dominated by men, displaying a profound commitment. Aqeel believes that projects like these, which provide equal opportunities to both genders, have the potential to reshape societal perceptions of women's roles.
Aqeel's commitment to demining in Sinjar showcases the resilience of individuals who strive to make their community safer. His dedication, along with that of his team, serves as a beacon of hope for the people of Iraq, especially Sinjar, and reminds us of the positive impact that International and Local partnerships can have in the face of adversity and bringing back safety and security.