On March 18, 2022, the party is in full swing in the day care center during the Holi. The girls are spraying themselves with colored powders, they are dancing, and they are happy to celebrate again after two years without party.  At the end of the school day at Saint Joseph school, the children are screaming, running, and they are happy to be together. Classes resumed with their teachers and their classmates, two years after the last lesson. Life seems to be back to the way it used to be. But the smiles on the children's faces do not erase the difficulties that the girls have to face.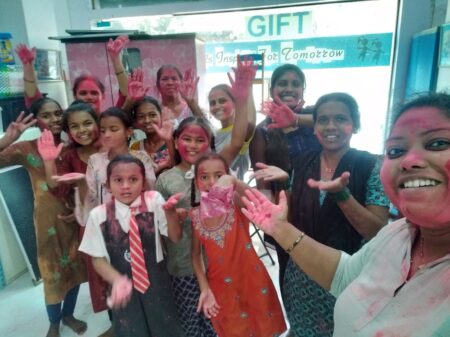 One of the girls is seven. She is dancing and no one can imagine that her mother left, and that the girl now lives with her alcoholic father. In the slum, many men are alcoholic, and they poor salary is spent into alcohol to drown their problems (poverty, family, and children). Another child is playing whereas her mother has left in order to have heart surgery. This surgery is made at twelve hours by bus from Mumbai, in her native village. Her husband accompanied her and left their children aged 6 and 7 in the slum. These lonely children stay with their grandmother who substitute herself to the missing parents. She works hard to have a small salary and they keep the children. Sometimes, during the night, the grandmothers rummage through the garbage to find something to eat or a thing which can be resold. The interventions of GIFT allow these families to receive food rations and education for their children.
And there are women, aged 20 or 21, who are passing their exams. One of them is very busy. For two months, she has found a job in a clothes shop. The salary she earns is used to pay the rent and food for her youngest sisters. At the end, she just has enough to pay the transports and food rations. Her mother died a few years ago. Her father left without saying where he went. Life is hard when you are twenty in India. For these girls, the moral support from GIFT and the financial support from the sponsors of the association constitute an important aid for their first steps in working life. The day care center become a shelter, the only place where they are treated with dignity and care, heard, fed, guided, helped by the team of GIFT.