Sponsor a child from Burkina Faso and help him or her to complete their college studies, paving the way for their future …
Since 2009, HAMAP-Humanitaire has been committed to supporting schools in the villages of Guluré, Tanghin and Kokologo in Burkina Faso. This enables uneducated children to attend school.
At present, our NGO is financing 4 classes to allow the children to follow 6 years of primary schooling and receive a school certificate. Many of these children will pass their exam and would then like to continue their education by going to college.
To enable this, HAMAP-Humanitaire has launched a sponsorship project to support these children financially and morally, helping to build their future and the future of their country.
By giving €180 a year or €15 a month, you can finance the college registration fees, uniform and school supplies that a child needs.
Would you like to sponsor a child?
It's easy:
Simply complete this sponsorship donation form and mention above that you are sponsoring a child. Then, return it to us with the payment method of your choice:
* Send a cheque for €180 to HAMAP-Humanitaire at the following address: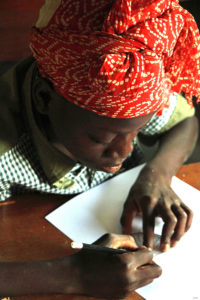 HAMAP-Humanitaire
7 rue de Charenton
94140 Alfortville
Or
* Complete the direct debit mandate form for €15 a month and send it to HAMAP-Humanitaire.
During the course of the year, you will receive news about the child you are sponsoring, including their school results.
A big thank you for your support!